We've all been there… one moment you're feeling good about your online visibility and then BAM! Google moves the goalposts. This time, their target is the review stars on the search engine's results pages (SERPs). You know, those ones that sit below your brand saying how awesome you are? They looked like this and they attracted more clicks than your competitors:

Does this affect my business?

If you are a local business who hosts reviews of your own business on your website, then your stars have likely fallen victim to Google's September 16th update. And you're not alone. Moz has reported a 14% drop in the number of search results that include this feature.

"But why did the Google gods decide to banish my stars to the same fate as the keywords meta tag?", I hear you cry. Well, that's an easy one. Abuse. Getting these stars wasn't too difficult.
All you had to do was ask your customers to post a review of your business on your website, and then mark those reviews up with microdata (that's nerd-speak for special tags that only search engines and binary junkies read). Or, if you want to re-interpret this paragraph:
All you had to do was suppress customer feedback, only post 5 star reviews, post your own fake reviews, and generally spam the SERPs.

This is why we can't have nice things.

Which review stars are not affected?
All is not lost. Not every type of rich snippet review has been sent to Google purgatory. The following are some noteworthy review types that skirt by the new guidelines:
Product reviews posted by customers on your online store.
Reviews for any other content on your site, for example, recipes, services or blog articles.
Reviews you write for other businesses or services that include star ratings.
Reviews posted on your directory site for other businesses.
What should I do about my online reviews?
We're actually surprised it took Google this long to give review stars the old heave-ho. Ever since we saw the potential abuse the review markup was open to, we have concentrated on building up our clients' reviews on trusted third-party platforms, and that's what you should do too.
Generally speaking, any third-party reviews for your business are unaffected by this change. That includes TripAdvisor, Yelp, Facebook, AngiesList, as well as independent review articles that have been written about your business. And don't forget about Google My Business.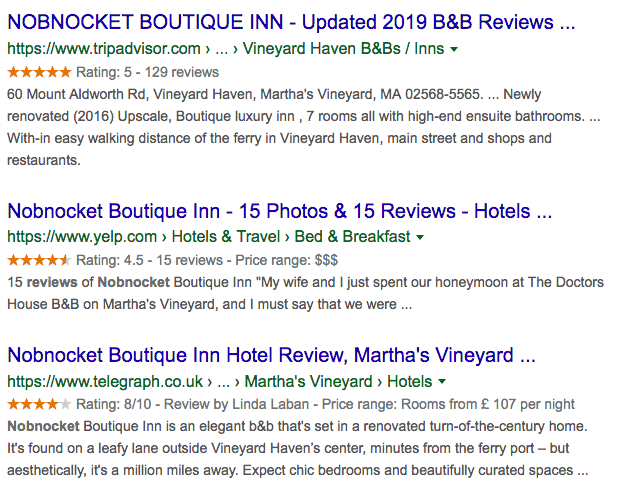 Cape Cod SEO Consultants

Sudden changes like this is why it's important to have an ongoing SEO strategy and an experienced consultant you can reach out to. Last year, Google tweaked their algorithm on average 9 times per day! We can help you navigate the waters of Google's constant sea change. Call (508) 694-7126 or contact us for a free SEO consultation.